The Xiaomi Mijia Smart Washing Machine is equipped with an AC motor that guarantees stable, efficient washing, as well as energy savings and silent operation. The maximum speed is up to 1400 rpm, which provides one hour of washing and drying. Xiaomi emphasizes the quiet and efficient brushless motor that, in collaboration with the suspension system, will eliminate tremors and vibrations even at maximum drum speed. According to the manufacturer, hot air condensation drying technology allows simultaneous processing of several things.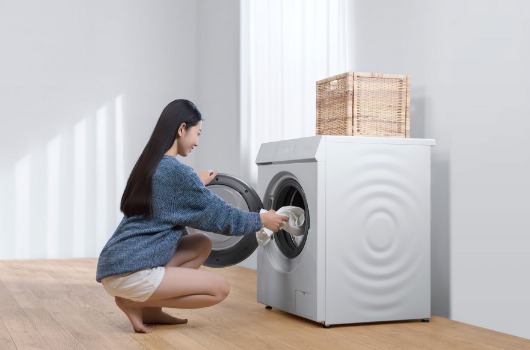 The Mijia washing and drying machine  a 10kg washing capacity which is said to be suitable for a family of four. It has 21 smart washing modes and it uses a BLDC inverter motor that can spin up to 1400rpm.
For days when it's raining or hazy, it can also be used as a dryer with a capacity of 6kg. According to Xiaomi, the dryer claims to have a high sterilisation rate of 99.9% and it's more efficient than typical drying under the sun.
The washing and drying combo machine also has an air wash feature that uses hot air and steam instead of water to remove odour and bacteria while keeping your clothes . This method of washing is suitable for wool coats, jackets and even plush toys.
Typically, washing machines would vibrate rigorously especially during the cycle. To reduce noise levels and harsh vibrations, the Mijia smart machine has a car-like suspension system with 4 shock absorbers and 2 shock springs.
Like any Xiaomi smart appliance, you can manage your wash and drying settings from the Mijia app. You check the current status, set child lock and it even alerts you if there are any errors or when your wash is completed.
Of course, you can still use it the normal way via its touch panel. If you need to add extra clothes halfway, Xiaomi says that you can just pause and open the door without having to wait. Of course, this is likely to be limited to drying or when the water level in the drum is low.
Condition: New Brand
Name: xiaomi
Model Number: mijia
Place of Origin: Guangdong, China (Mainland)
Power Source: Electric
Type: All-In-One Washer / Dryer Automatic Type: Automatic Loading
Type: Front Loading
Installation: Freestanding
Certification: CB, CE, RoHS
Tub No.: Single
Tub Housing Material: PVC
Tub Material: Porcelain-Coated Steel
Power (W): 1800 Voltage (V): 220 Size: 598* 650 *850mm
color: white
weight: 71kg
Capacity: 10kg
Drift speed: 1400 r/min
Drying power: 1200W
Working water pressure: 0.05-0.8MPa
Waterproof grade: IPX4
Washing Noise dB(A Weighing ): 62dBl